It is generally misunderstood that vegan food is expensive, but in fact, it doesn't have to be. Finding certain ingredients for cheap vegan recipes may take more time (or exploring other food aisles), but what you need the most is plant-based foods. Since you omit meat and dairy, you can get more creative in fruits, vegetables, and spices, as well as vegan-approved milk and cheese substitutes and plant-based meats. Just look at these recipes like Chickpea Empanadas, Super Simple Mung Bean Potato Curry, Simple Oven Roasted Garlic Mushroom Rice, Puerto Rican Ramen Tacos, etc. to see the infinite possibilities of vegan food.
An inadequate budget should not prevent anyone from eating healthy and delicious vegetarian food. The trick is to spend your money on the right ingredients that can extend the money. Lentils and beans and pasta are cheap and easily available, and they can keep you full. Tofu is another economical, versatile and high-protein ingredient. Healthy vegetables, such as broccoli, sweet potatoes, seasonal vegetables and spinach, will not bankrupt you.
These cheap ingredients are also easy to cook in vegetarian meals! Let's make some cheap, comfortable vegetarian meals.
Mediterranean Lentils and Rice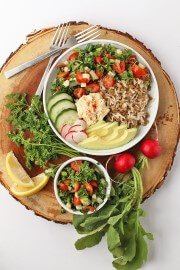 This Mediterranean rice and lentils will make you feel relaxed. Top with tomato salad, cucumber, homemade hummus, and fresh greens. Vegan and gluten-free! This vegan and gluten-free Mediterranean rice and lentils are served with tomato, cucumber and homemade hummus salad to keep you healthy. The good news is that creating complete proteins on a vegetarian diet is not difficult. When you mix legumes or lentils with grains like rice, quinoa, or whole wheat, you get all 9 essential amino acids in your food, resulting in a complete protein!
Mediterranean food is the healthiest food in the world. It relies heavily on fresh vegetables, whole grains, and legumes. Also, healthy fats (like olive oil) can replace butter or margarine, and fresh herbs and spices can replace excess salt. In short, Mediterranean cuisine is simple, healthy, wholesome, and satisfyingly delicious!
Bubble and Squeak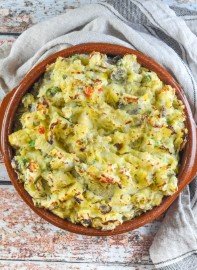 Bubble and Squeak is a simple and versatile recipe, perfect for using up leftover cooked vegetables or making it from scratch with only 4 ingredients. It's really easy and super cheap! If you have always wondered how to make with leftover cabbage, kale, Brussels sprouts or any other cooked vegetable dishes, then my very humble but delicious bubble lobster is your friend.
We are talking about fluffy mashed potatoes mixed with most cooked green leafy vegetables (but vegetables without leaves can also be added), then baked or fried until golden brown. This is a very versatile and inexpensive meal, perfect for using up leftovers after a barbecue dinner or during Christmas or Thanksgiving.
Oven Baked Garlic Mushroom Rice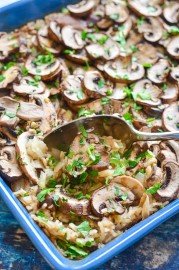 Rice with mushrooms and garlic roasted in the oven in a pot. You will make simple, comfortable and concise meals again and again! It has a short ingredient list and is very easy to manufacture. It's also completely oil- and gluten-free, but it's still awesome, delicious, inexpensive, and so delicious (thanks for the rice!).
Rice is an important base for family meals because it is allergic, nutrient-rich, low-calorie (about 108 calories per half cup), naturally sodium-free, cholesterol-free, and is an important source of B vitamins, phosphorous, zinc, and protein B of plant origin.
The Best Vegan Meatloaf
The classic vegan meatloaf made with chickpeas is very easy to make. This is not another vegan bread. It is beautiful, delicious, and hearty, and it is very comfortable with mashed potatoes and mung beans. Ah, vegan meatloaf. Have you tried making one? You can find many different versions on the Internet, from lentil bread to tofu bread, and even more.
Instant Pot Black Beans
My Instant Pot Black Beans recipe can be a simple, delicious, healthy, and affordable dinner. As well as playing their role well, they can also work with other foods, making them perfect for cooking!
This recipe is basically my slow cooker black beans, which has been popular among virtual vegetarians since the beginning, but I have adjusted the recipe to make it work well on the Instant Pot
So if there is no Instant Pot or other electric pressure cookers, please skip there and you will find instructions for slow cooker and stove. If you don't want to cook your own meals, there are also instructions for using canned beans. They are versatile and very suitable for batch cooking. They can also be reheated and frozen perfectly. I often double or triple them and freeze them for another day.
Vegan Meatloaf Muffins (Easy Holiday Meal)
Vegan meatloaf muffins can be made quickly and easily with lentils and other common ingredients. Enjoy this meatless entrée with mashed potatoes and my easy-to-eat vegan mushroom sauce for a comforting dinner.
Spanish Beans with Tomatoes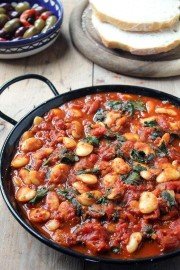 These Spanish Smoky Sweet Spices and Tomato Peas are easily made in a pot with only 7 ingredients in 20 minutes. With only 125 calories per stew, this bean stew recipe is very suitable as a Spanish snack, main dish or side dish. Vegetarian, vegetarian and gluten-free.
This simple vegan gluten-free Spanish bean recipe is rich, delicious and smoky. Navy beans are cooked in a thick tomato sauce and seasoned with chili powder. This version of Giant Bean Sprouts is smoky and delicious, cleaned perfectly with a piece of fresh bread.
Chickpea Tacos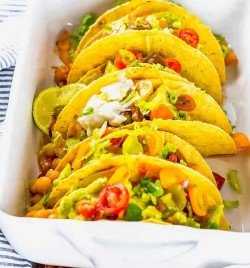 These delicious chickpea tortillas are easy to make and make a great weekend, lunch, or Tuesday taco meal, seasoned with chickpeas with onions, garlic, and homemade tacos. These homemade tortillas are so much better than eating out.
Indian Spiced Tomato & Rice Stew
This delicious, healthy, warm, full, and so delicious skillet rice is perfect for a busy weekend! Simply add the ingredients to the frying pan and cook the rice until ready to eat. This warm and incredibly delicious one-pot meal is life. Maybe this is a bit too much, but it does make life happier. Try this simple and healthy stew. It has all the spicy flavors. You will think it takes a few hours to prepare, but it is very simple. It is so healthy because it is rich in protein in chickpeas and peas and a lot of antioxidants in vegetables and tomatoes, making it score higher in dinner.
Instant Pot Yellow Split Pea Soup
This classic yellow pea soup will make you feel refreshed and refreshed. Just add the healthy ingredients to your Instant Pot and relax while the magic happens. There are many models to choose from, but after researching I decided to use the Instant Pot Duo Plus 6-quart 9-in-1 feature. Yes, this is a 9-in-1 device! It is a pressure cooker, slow cooker, rice cooker, yogurt, tofu and egg maker, sterilizer, steamer, heater and stir fry.
Vegan Baked Beans
These thick, sweet, smoked vegan slow-cooked baked beans require some preliminary preparation, and then you can make them do things while you do. You will get comfortable, delicious and most incredible baked beans with rich, rich and complex flavors. Stay away from the jar of baked beans and make these vegan baked beans instead. just do it. You will not be disappointed. They are absolutely great, and you should know that I have eaten a lot in the past few months when I tried the right recipes. By preparing them, you can not only enjoy delicious and nutritious meals, but also help support the International Year of Pulses.
This recipe can go a long way, but it heats perfectly and can be kept in the refrigerator for up to five days. During this time, the taste continues to evolve and gets better. They can also be frozen well for easy dinner later.
Vegan Pinto Bean Soup – Stew Recipe
The best vegetarian pinto bean soup recipe from scratch. Naturally thick and creamy without adding any thickener, it has deep smoky flavors of Mexican seasonings, smoked paprika, bay leaf, and thyme. Serve brown rice or clean the bowl with this crusty bread.
A pot of miracles can be anything you want. Just add more water to thin the soup, like soup, and adjust the seasoning with sea salt. You literally just toss everything into a thick bottom soup pot and cook for several hours over low heat.
Spaghetti with Garlic and Olive Oil
Pasta with garlic and olive oil is a classic Italian recipe that can be made in minutes. If you have little or little storage room time, this simple but delicious dish is perfect for weekend dinners. Spaghetti with garlic and olive oil is called Aglio e Olio in Italy, or Aglio, Olio and Peperoncino in this case, because we use red pepper flakes.
Eggplant Chickpea Curry
This is a delicious vegetarian and gluten free Indian chickpea and eggplant curry. This meal can be completed in 30 minutes, making for a relaxing and healthy weekend dinner the whole family will enjoy. An eggplant recipe is not enough. In fact, I often don't know how to deal with eggplant. As early as the day I had CSA, I was getting a few eggplants every week, and these eggplants often went to waste. So I never considered buying aubergine from the store because I was worried it would rot in my compost bin after a week.
In addition to its fine texture and unique flavor, eggplant is also rich in various vitamins and minerals, such as vitamin C and B, iron, and calcium. Eggplant is also rich in fiber and antioxidants, all of which can heal and restore the body. A super vegetable. Some of the benefits of eggplant include:
This dish combines the flavors of fresh garlic and ginger with Indian-flavored seasonings of curry powder, cumin, and turmeric, followed by aubergine and tomatoes cooked for pleasing tenderness and full saturation.
Belizean inspired stewed beans recipe (vegan style)
Belize-style bean stew-a simple but delicious slow-cooked herbal vegetarian dish with plantains. Finally, another warm and hearty Caribbean recipe, put in the pot, let everyone gnash their teeth, this time, we are tasting the cuisine from the beautiful Belize country. Although Belize is more or less a Latin American country, it is located in the Caribbean Sea and has a similar culture to its Caribbean neighbors.
This bean stew is very delicious: lots of garlic, plus herbs (rosemary, sage and thyme). Sage and rosemary are not usually found in Caribbean foods. They are not traditional foods, but of course that cannot be guaranteed and depends on the island country and/or the dishes involved.
One-Pot Spicy Vegetable Rice
This one pot spicy vegetable rice is our favorite dinner on Wednesdays. There's only 30 minutes and a pot in the middle, and a large bowl filled with deliciously spicy, spicy rice, topped with soft, sweet veggies. It's about chicken and seafood, a bit like paella. Of course the ingredients I used have changed over the years to cruelty free spicy vegetable rice, which is often made.
Bell peppers, onion, and garlic are must-have seasonings in this recipe, but other veggies are very mild. Replace them with any item from the refrigerator or customize to your liking. As long as you use roughly the same amount, everything will be fine. Even frozen vegetables work well.
General Tso's Chick Peas (Vegan, Gluten-Free)
Ordinary chickpeas (vegan, gluten-free) are a delicious and healthy substitute for ordinary chicken or even tofu for those who avoid soy. Chickpeas absorb the flavor of the marinade well, making it quick and easy to make. It is delicious with steamed brown rice and steamed broccoli. If you use canned chickpeas, you can reserve 1/4 cup of liquid to replace the vegetable broth. Chickpeas are very versatile, and the different recipes using chickpeas will surprise you.
Creamy Vegan One Pot Pasta (Asian Style)
I love pasta and I like fast food. So this vegan Asian-style pasta with coconut milk and red curry sauce is definitely the perfect choice. This is my favorite meal during weekend dinners. Simple, healthy and therefore very delicious and creamy. You only need one pot to make! This kind of pure pasta in a pot is really tough. You just need to add all the ingredients (including the raw pasta) and cook for about 15 minutes.
Vegan Mexican Rice – Black Bean Burrito Bowl (Instant Pot)
This is indeed a version of my favorite oven-roasted Mexican rice, but some beans are added for the protein and instructions for the Instant Pot! It's not that messy… Everyone knows that it's easy to spread those rice grains? ? ? ? From a blogger's point of view, is the bowl hot? Beautiful…I think I need a bigger bowl because this is so good!
If you look at the recipe, you may notice that it requires canned food provided by Rotel. That's just a widely used brand of canned tomatoes with green chilies instead of hot chilies. Any brand is fine, or you can substitute tomatoes and fresh peppers! For anyone who wants to know what Rotel is, here (affiliate link), but you can buy it at most grocery stores! I like these things!
Vegan Burrito Recipe
This Crispy Black Bean Veggie Burrito Recipe is the best burrito in town! You will love the simple ingredients in a healthy veggie burrito recipe. The veggie burrito comes with black beans, brown rice, potatoes, corn, and seasonings, which is perfect! Enjoy a festive Mexican vegetarian dinner with guacamole and French fries.
If you like delicious, cheap and delicious vegan dishes, then you will like the best veggie burrito recipes. How about these delicious Mexican vegan side dishes from vegan Brito. why not add this easy-to-use batch of cheese? Or is it my favorite 7 tier vegan? Ah good!
Cuban black beans (frijoles negros)
Cuban Black Bean-Learn how to prepare this popular authentic Cuban Black Bean dish and bring Old Havana into your home. They say that you can't talk about Cuban cuisine without mentioning Cuban black beans. When I visited Cuba a few years ago, I was in a black bean paradise. If you like beans, which give off flavor due to slow cooking, then this recipe is perfect for you!
In an ideal world, I can earnestly rely on black beans for a living for the rest of my life. This is what I enjoy. The key to making high-quality black bean dishes is beans. Yes, it's all related to adzuki beans.
After washing the dried beans several times, they need to be soaked overnight to remove any residue. In the morning, rinse the beans and add more water. Soaking the beans is an essential step to tenderize them, which will greatly reduce the need for long boiling. What I like to do is to boil the beans with two bay leaves to give them a subtle flavor as they gradually soften.
Instant Pot Detox Vegetable Soup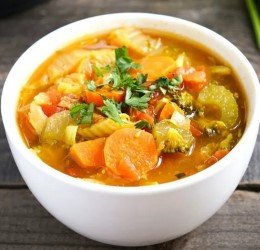 This instant detox vegetable soup is a simple and healthy dinner or light meal recipe. It's packed with nutrients and lots of colorful veggies, just $ 0.86 per serving. (Gluten Free, Vegetarian) Some people don't like the term "detox." They say that food ingredients are non-toxic so this is an exaggeration. No matter what you call it, you know that after all the carnivals, annoying things will come up in it. This soup can only help improve our system and bring us back to a healthier place. I like to refocus on including multi-colored vegetables in my diet in the New Year. This soup is a good starting point.
If you don't want to eat all of these dishes at once, you may want to skip the broccoli because it will get very mushy if you need to reheat the soup. For the stovetop version, just put the ingredients in a large pot and cook until the vegetables are soft. Either way, this delicious soup can be used as a light meal or snack.
Mexican Pinto Beans and Tomatillo Cilantro Lime Rice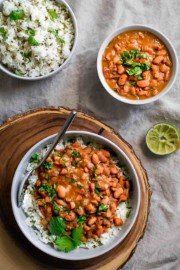 Pinto beans are boiled in the oven until tender and then processed on the stove to make creamy, delicious restaurant-style beans. The rice is seasoned with tomatoes, lime and coriander, making it a perfect spicy side dish. You can stuff rice and beans into the burrito (may I suggest to eat it with my taco "meat"?), or you can serve them with any taco, just like in a Mexican restaurant! This is the best simple comfort food. I hope you try homemade beans and my favorite lime-cilantro tomato rice (if you are the enemy, skip the coriander!).
Velvety Zucchini Basil Soup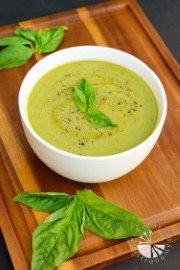 For a tablespoon of this soup, you will ask the whole pot! This velvety zucchini and basil soup is a surprise. All subtle flavors, smooth texture, vegan, gluten free, only 5 ingredients. It may look like another zucchini soup, but it's actually more. Simply adding fresh basil can really enhance the flavor of this dish.
This recipe was inspired by one of my favorite Italian restaurants in San Diego's Little Italy. After becoming a vegetarian, I finally gave up on some of my favorite Italian restaurants, because most of the dishes that I used to like contained dairy, and their vegetarian options were limited and nothing special. However, in some cases, I ended up discovering new dishes at my favorite restaurant, like this Velvet Basil Zucchini Soup. I often crave this soup, which happens to be one of their vegetarian options.