Starfruit is a delicious tropical fruit that is grown in Thailand as well as throughout Southeast Asia, Australia, and South America, but also in Hawaii and Florida. They're also easily accessible at the local grocery store or the market. A starfruit is an excellent option during winter as they're easily accessible. Also, since they're a fantastic food source of vitamin C, Starfruit can strengthen the immune system. This is beneficial in fighting off influenza and winter colds.
With just 30 calories per serving and plenty of fibre, the star fruit is a fantastic option for those trying to shed weight. Also, they're very nutritious and full of Flavonoids and antioxidants.

What Is Star Fruit?

Star fruit, commonly referred to as carambola, is a tropical tree that is a part of the carambola tree, which is indigenous to Southeast Asia. It is grown across the Caribbean, South America, Florida and Hawaii. This tropical fruit is characterized by several ridges which connect. When cut in a cross-section, the star fruit slices resemble an equilateral five-pointed star. Similar to other citrus fruits, star-fruits are sweet and tart. Star ripe fruits are bright yellow, with hints of lighter-edged brown and green. Star fruit is a good source of vitamin C, antioxidants, and carbohydrates.
How to Choose a Ripe Star Fruit

At the time of ripeness, star fruit is bright yellow, with hints of light green. They might have a dark brown spot along the five ridges – this is normal. The flesh should remain very firm and smooth to feel. You can also purchase star fruit at the beginning of its green colour and then wait for it to develop a ripeness. You can leave it on the counter for several days. Once it's overripe, the fruit becomes yellow, creating brown spots across the entire surface.
It is deliciously fresh. However, it is also great juiced or cooked star fruit is one of the stars of nature!
The fruit should be washed. Rinse it under cold water and rub it with your fingers until loose dirt accumulated in the crevices is removed. Washing the fruit ensures that any bacteria or chemicals that might have accumulated on it are gone, and it is safe to eat.
Cut off the Dark Tip Along Each Ridge
Rinse the fruit thoroughly, or lightly clean it with the homemade vegetable and fruit wash.
The star fruit should be held vertically on a cutting board or countertop. With a sharp knife, cut very lightly down five of the ridges (or "star points") by removing and discarding any brown edges.
The fruit should be cut in half. Slide the blade of your knife across the edges that are green of the fruit. Cut off only the non-orange edge of the Starfruit.
Cut from the edges. After the edges are removed, cut away the ends from your Starfruit. Use your knife to take about half of an inch (1.27 centimetres). At this stage, your fruit should be only orange-coloured. All of the brown or green areas should be removed.
Eliminate all seeds. Your slices will contain germs, and the sources are located within the centre of your fruit; in the centre of the fruit, use a knife to take out the seeds.

How to Store Star Fruit After it is Cut

When you have the star fruit, don't let it sit in the room for more than an hour or two. Instead, place the fruit into a sealed container or storage bag, and put it inside the fridge. You should finish it in two or three days to taste great.
Do not worry if you're thinking of taking home your first-star fruit but aren't sure what to make of it, do not worry. Star fruit is straightforward to cut and enjoy, making it perfect for adding to your daily mixture of fresh fruits. In reality, all the fruit can be eaten so you can go for it. Making it smaller can make it more visually attractive.

How to Eat Star Fruit
It is possible to eat star fruit on its own for a nutritious snack or make ice cream or cake. Take a look at these methods to enjoy the star fruits: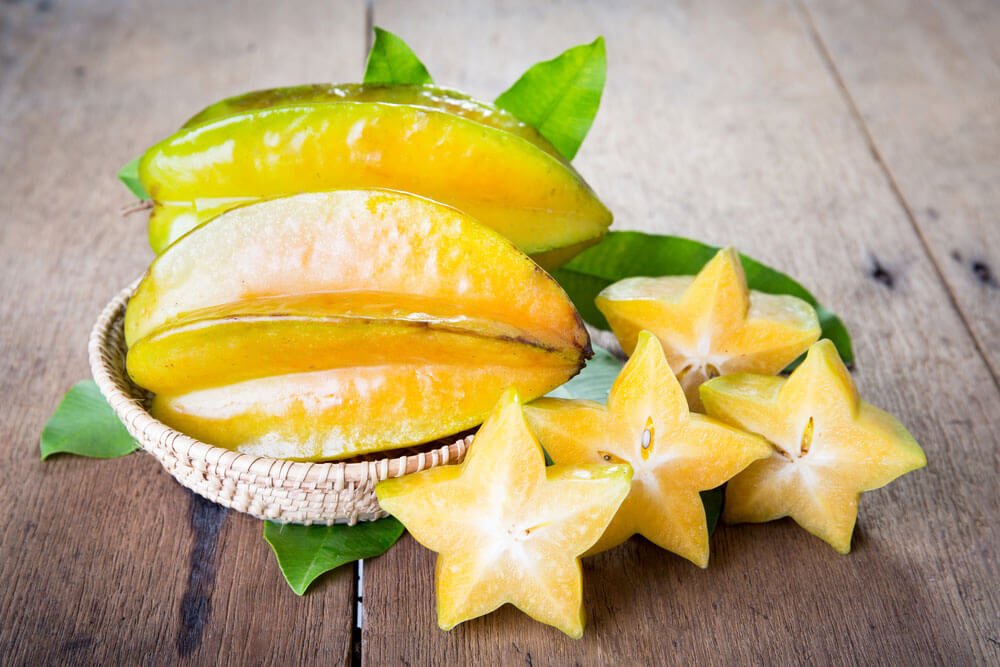 Fresh: Include star fruits in a fruit salad and other tropical fruit like papaya, kiwi, or dragon fruit. It is also possible to use star fruit slices as a garnish for drinks.
It is pureed to make an exotic smoothie, cocktail, puree starfruit, and orange juice.
Cooked: Cook starfruit along with limes and peppers to create a lovely Chutney to serve alongside savoury dishes like seafood or chicken. It is also possible to bake Starfruit into cakes and use it to substitute fruit in an upside-down cake.

Starfruit is delicious to eat and simple to serve
Since the whole fruits are edible, cutting and attractively serving the star fruit is easy. Kids love the fun shape of the star and the sweet taste. Adults might believe you've had much trouble making and serving this delicious fruit, but it's unnecessary to divulge the secrets.